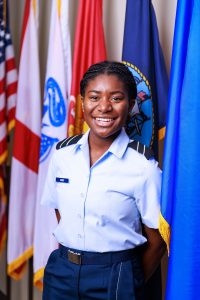 Jahnaya Cosby, a sophomore majoring in marketing, found a way to combine her passions and campus involvement to serve others during her time at the Capstone.
Honoring Veterans Through Campus Involvement
Jahnaya recognized a need for initiatives that focused on giving back to veterans, so she decided to coordinate several efforts for veterans through her involvement in Student Government Association (SGA) and the Office of Veteran and Military Affairs (VMA) as a military-affiliated student in the ROTC. In March she coordinated and organized Operation Grateful, where 60 care packages were created and delivered to veterans at the Tuscaloosa VA Medical Center in conjunction with SGA and the VMA office.