Celebrating Culture
As Marissa Navarro explored the hundreds of organizations available at Get On Board Day, she was shocked to realize that something was missing: representation of the Hispanic and Latino community.
Over her next three years at the Capstone, the rising sophomore biology major from Michigan said she plans to change that, one step at a time.
While Navarro didn't find the organization she was looking for, she did manage to find an opportunity to work with UA Crossroads.
"I just happened to meet someone who worked with Crossroads, and after they told me more about it, I knew it was something I wanted to be involved in," said Navarro.
In fact, Navarro joined the Crossroads team just in time to help educate students about Hispanic-Latino Heritage Month.
"I started working here in September during Hispanic-Latino Heritage Month, and that was something that really intrigued me, because that's what I am, that's what I'm used to," Navarro said.
Navarro now serves as an intern for Crossroads, where she works 20 hours a week. Her involvement in Serve Better Together, an interfaith service project, and the organization's culturally inclusive breakfasts, held once a month, increased her passion about the organization.
"I love Crossroads," Navarro said. "I think what they do is very special, and it's needed on campus. It makes it more inclusive and engaging and allows people to step out of their box."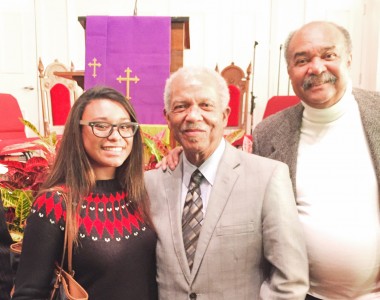 However, Navarro's initial desire to be part of an organization dedicated to the Hispanic and Latino community has not waned. Through Crossroad's culturally inclusive breakfasts, Navarro found other members of the Hispanic community who showed interest in the organization she wanted to create.
When Norma Cuellar, chair of the committee on inclusivity for the Capstone College of Nursing, agreed to serve as advisor to the organization, Navarro began taking concrete steps to build the new Hispanic-Latino Association.
"I really want to bring the community together, both on and off campus, so it's not just for students but for faculty and staff as well," Navarro said.
Cuellar said Navarro's passion for this new organization is inspiring. She believes Navarro will become an influential leader for the Hispanic and Latino community at UA.
"To begin this endeavor as a freshman tells me that she is a young woman who is going to be a great leader in the Latino community," Cuellar said. "I hope I can mentor her and help her path be a little bit easier. There are many faculty and staff interested in the Latino population on campus but we have not had a voice on campus as a unique cultural group."
Together, Navarro and Cuellar have begun brainstorming events and service projects that the association can take part in to serve the community, while also building a community with one another.
"I think Marissa has a keen sense of awareness of what is needed by the Latino students. She is also very open to listening to students and get feedback on what they want from this organization," Cuellar said. "It is not easy being a Latino in the state of Alabama and we need to support these students to be successful, not only in academics but in service, while here at UA."
Navarro said she believes that the Hispanic-Latino Association will also encourage more students of Hispanic and Latino descent to consider coming to UA.
"When you're looking at a school and you're trying to find an organization that you're interested in and you don't see that there, and don't part of your identity represented, then that draws you away from that school," Navarro said. "I definitely like being on this campus, and I think a lot of good things happen here, so I want Hispanic and Latino culture to be represented."
Having a group of people that share her heritage and traditions is especially important to Navarro because of her distance from her family.
"My family is very close knit, and I was never away from them so now that I don't have that it's a big difference," Navarro said. "Coming here was a huge step for me and my family, because I'm the first woman to attend a university and have that experience."
Navarro said her family is another big inspiration for her creation of this new organization. She hopes to officially begin having meetings and events in the fall.
"We love our heritage, and we love what we do, so just being able to share that with people is a big part of why I wanted to build this organization."