Office Hours: Kiara Summerville
by Joey Blackwell
Office Hours provides an opportunity to introduce UA students, families and friends to the outstanding men and women who work at The University of Alabama and work tirelessly to provide each student with a great experience at the Capstone.
This edition introduces Kiara Summerville, who is the assistant director of First Year Experience and Retention Initiatives. Summerville addresses and assists the needs of first-year students, as well as transfers at UA.
---
Name: Kiara Summerville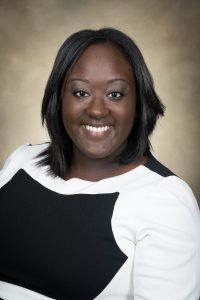 Hometown: Huntsville, Ala.
Job Title: Assistant Director, First Year Experience and Retention Initiatives
Alma Mater: The University of Alabama (bachelor's in public relations, master's in higher education administration, and currently finishing her doctorate in higher education administration)
I came to UA because… UA was the only school that I applied to out of high school. My mom was actually born and raised in Tuscaloosa, so we spent a lot of time here growing up. All my folks are here. Tuscaloosa has always been a second home, and so I have just always felt a connection to this town by nature of having roots here – my family – and the vibe. There's a whole city outside of our campus as well, and I know that by nature of my family being here.
When I'm on campus, I… am doing good work for students by nature of my job. We can come in here and I can be having a bad day outside of work or just maybe not feeling productive in work but the reality is I'm here to do good work for students. I feel like these are my people here on campus, and so I would say that I am always engaging and creating relationships and building on the relationships that I have with students and faculty and staff on this campus. These are my people.
During my time at UA, I'm most proud of… the first BRIDGE program this past summer. It was our program for incoming men of color. It was a vision of the Division of Student Life had prior to me even getting in this role, but I was blessed with the opportunity to lead the program. It was amazing. It was more than I ever could have wished for. Lots of tears, lots of sleepless nights and I didn't really know what it would look like because it was the first year. Seeing us pull together and work together to pull off that program is something that I see as the most beneficial and most transformative experience for me as a staff member.
The one UA experience I will always remember will be… my experience as an orientation leader. That experience was the impetus for this life calling – this journey that I've gone down in higher ed – that experience was just so transformative. It kind of blows my mind sometimes because it was just a summer. Those couple of months I got to know those people so well and I felt this calling on my life to do this. That orientation experience certainly set the tone for what this experience would look like working at the collegiate level even though I was only 19 years old. That experience was a defining moment for me.
For transfer students that are seeking support or help, some advice that I have would be… involve themselves in our programs that we hold for the students. We have a monthly calendar of events that we do for transfer students. I think a lot of transfer students think that they're the only transfer student on campus, and they're not. There are so many of them. I have a list of about 2,000 transfer students that are distance learning and at least 1,000 that are main campus. You're not alone. Don't suffer in silence. If you don't know the answer to something, don't be afraid to ask. We're here to help you.
To contact Kiara Summerville, email her at ksummerville@ua.edu, or call her at (205) 348-8404. You can also find her in her office, which is located on the third floor of Russell Hall.