Believe UA: Mentoring program trains future leaders
By Joey Blackwell
If asked about the mission of Believe UA, Dr. Mary Lee Caldwell will give you a short yet resolute answer: "To set our students up for success, both in the classroom and out."
That's exactly what Believe UA does.
Believe UA is a mentoring program founded in 2010 by Dr. Tim Hebson, who serves as an associate vice president for Student Life. It serves as a mentoring program designed to boost the confidence of underclassmen in their first couple of years at the University, as well as provide guidance.
"You can't make a small school big, but you can make a big school small," Hebson said. "We did not want UA to lose that personal touch."
Caldwell now oversees the program, and serves as its director of mentoring, resiliency, and citizenship. The program has seen resounding success over its nearly decade of mentorship, serving more than 1,500 undergraduate students.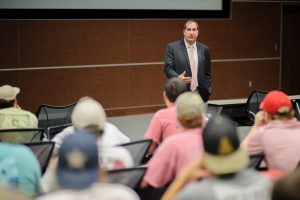 The program does this by assigning undergraduates to peer mentors, as well as enrolling them in HES 225: Academic Mentoring. In the three-hour credit class instructed by Hebson, students work with their mentors and gain valuable skills over the course of the semester.
"We spend a lot of time in our classes focused on personal development, goal setting, creating planners and action plans for their semester, and then we pair them with a peer mentor that meets with them weekly throughout the semester," Caldwell said. "They both journal about those experiences."
Over the past nine years, participants in the Believe UA program have demonstrated significant improvements in their GPA.
"We've got some great data that shows that students that are enrolled in our program are outperforming their peers academically while they're in that program," Caldwell said. "Statistics show that grades are higher for the students that are in the program versus freshman students that aren't. That's certainly a success story."
Students that participate in the program have no shortage of praise for the program as well.
"Every semester we get testimonials and journals about how this was an affirming experience, and that they got applicable skills that they could build on," Caldwell said.
There are other benefits past the peer mentoring and course credit, though.
"They are getting access to community leaders that come and speak to the classes," Caldwell said. "We have an active advisory board that has just launched in this past year that are community members throughout the state, mostly alums, that have seen the benefits of this kind of work and want to give back to the university, so you have access to that board. You're gaining skills that are going to help you that are going to be transferable in other classes, in campus organizations, and then in your personal life or professional life after you graduate."
If a student is interested in joining the program, there are several ways to do so.
"It's open to all students," Caldwell said. "The easiest on-ramp into the program is to register for an HES 225 class that we teach. That would get you assigned to a peer mentor and go through that curriculum."
Caldwell said that students can also join the program by visiting the Believe UA office in the Ferguson Student Center, where students can sign up for one-on-one counseling and resources. However, the vast majority of students participate through HES 225, she said.
Regardless of the way students choose to participate, there is no doubt of the success of the program.
"If somebody's coming to Alabama, they can be in this mentoring program when they're a freshman, and that's almost like going bungee jumping with a bungee cord," Hebson said. "It gives you some accountability, you set goals, you do the weekly planner and all that, and so that way parents who are leery about their son or daughter going to such a big school, it really helps them know they're getting a personal touch."
Today, the program continues to thrive under the leadership of Hebson and Caldwell. HES 225 has gotten so popular as a class for undergraduates that they are having to consider opening multiple sections of the course, since their current class is maxed out at 370 students.
"This was part of Dr. Hebson's vision," Caldwell said. "He is such a student advocate and wants to help all students become as successful as they can be."
If you would like to support the Believe UA program by making a contribution, you can do so by either donating online at give.ua.edu or, if you would like to make a donation in person or by mail, please visit Believe UA's website for more details.