Southern Hospitality
Career Center helps Bryant secure post-graduation job
by Joey Blackwell
A senior hotel and restaurant management major at The University of Alabama, Melissa Bryant has a passion for sharing hospitality and warmth with others.
"I just like to see the smile that I put on a person's face when I bring a plate of food, because that's how I feel when someone brings me a plate of food," Bryant laughed. "I enjoy it, and it doesn't feel like work at all."
Born in Colombia, Bryant spent the first decade of her life there. She then moved to Costa Rica with her mother and brother. Eventually, Bryant and her family moved to Maryland.
While in high school, Bryant discovered her love for hotel and restaurant management, which she took classes for in an after-school program that she attended through her high school.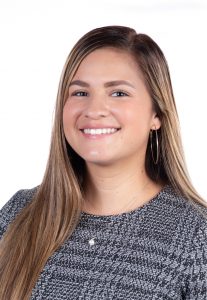 Bryant knew that she wanted to pursue a degree hospitality after high school. After searching for colleges, it was clear to her early on that UA was where she wanted to be.
"For me, the moment I realized I wanted to go to Alabama was when we were getting on the plane," Bryant said. "Everyone was so nice and so helpful."
When she arrived on campus, her love of the school only deepened.
"The University was gorgeous," Bryant said. "I remember saying 'everyone is so nice.' I remember thinking 'UA will be perfect for me. I can actually learn from people who are hospitable.' UA made me feel welcome from day one."
Bryant recalls feeling jubilant when she first heard back from UA after applying.
"I cried when I got my acceptance letter," Bryant said.
Knowing what she wanted to do after graduation, Bryant knew where she needed to go in order to obtain a job so that she could start working right after graduation: the Career Center.
"I went to the Career Center, and I talked to Ashley Olive," Bryant said. "She said she had some connections with the Marriott recruitment advisor, and she connected me with her and helped me through the process of changing key words on my resume."
In October 2018, Bryant applied for a management-in-training position with Marriott International. She had applied to positions with Marriott before, but had been turned down. After getting help from the Career Center, she applied with her updated resume. In December, Bryant received word that she had been hired, and will start work in June, following her graduation.
"I will be working with the food and beverage department," Bryant said. "I will be working in Gaylord, Tennessee, near Nashville. They have around 24 to 27 restaurants, and I will be rotating around all of them as I learn to be a manager."
When it comes to finding a job for after graduation, Bryant highly recommends students use the Career Center, even if students haven't decided what they want to do yet.
"The Career Center has different tests that could tell you what you are meant to be doing," Bryant said. "You should take advantage of what they have to offer for you. Some people take that and put it to the side and don't get help."
The Career Center can be utilized by both current students and alumni, which is something that many schools do not offer to their graduates. Bryant said it's one of the most valuable resources offered at UA.
"You have to pay for something like the Career Center after graduation, or you can use it for free here and have a job right after you graduate," Bryant said.
After all the places that Bryant has lived, she knows she has found a home and a family in The University of Alabama.
"I call it my home," Bryant said. "Alabama is my home now."